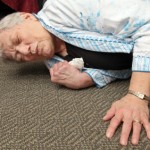 Ms. W was admitted to the Evergreen Health and Living Center nursing facility in Southfield Michigan for rehabilitation after having surgery on her fractured left arm. She was recognized to be at risk for falling and required one-person assistance for all activities of daily living.
On March 21, 2012, Ms. W was assisted to the shower by the nurse. Following the shower, the nurse took Ms. W to her room but then left Ms. W standing, unclothed, barefoot and holding onto the handles of a wheelchair with an arm that had been weakened from her recent surgery. The nurse failed return as planned. After standing longer than she could tolerate, Ms. W fell and struck her head on the corner of a bedside table, which resulted in the loss of sight in her right eye.
Ms. W will never recover sight in her right eye and has suffered extreme physical pain and emotional distress. As a result, Ms. W was forced to undergo medical and hospital care and treatment, forcing her to spend unnecessary large sums of money to cover the cost of her medical expenses.