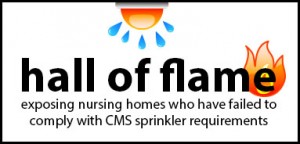 In March 2008, the Centers for Medicare and Medicaid Services (CMS) ruled that nursing homes that participate in Medicare and Medicaid programs must have automatic sprinkler systems installed by August 13, 2013.
The National Consumer Voice for Quality Long-Term Care recently reported that, despite having a five-year window to fix this problem, nearly 1200 nursing homes across the country are not compliant with that ruling.  Michigan specifically has 65 nursing homes that have only partially installed sprinkler systems.  Residents in these facilities are at risk for injury or death in case of a fire.  See the list below for all Michigan facilities not fully outfitted with sprinklers.
Nursing home residents are especially vulnerable because of impaired mobility or confusion, if they suffer from dementia.  In the event of a fire, a facility that lacks adequate fire suppression or sprinkler systems would be a death trap for its residents.
If you are in search of a nursing home, or you have a loved one already living in one of these homes without sprinklers, ask the administrator these questions:
Why is the facility not fully outfitted with a sprinkler system since you were given 5 years to comply?
When will you be fully sprinklered?
How are you protecting residents against dangerous fires until you are fully sprinklered?
Michigan Nursing Homes: Partial Fire Suppression/Sprinkler Systems
| | | |
| --- | --- | --- |
| MANISTEE COUNTY MEDICAL CARE FACILITY | MANISTEE | MI |
| THE VILLAGE OF REDFORD, A SENIOR LIVING COMMUNITY | REDFORD | MI |
| MEDILODGE OF ROCHESTER HILLS, INC | ROCHESTER HILLS | MI |
| SPECTRUM HEALTH REHAB & NSG CTRS-KELSEY HOSPITAL | LAKEVIEW | MI |
| ABERDEEN REHABILITATION AND SKILLED NURSING CENTER | TRENTON | MI |
| SOUTH LYON SENIOR CARE AND REHAB CENTER, L L C | SOUTH LYON | MI |
| AMBASSADOR NURSING AND REHABILITATION CENTER | DETROIT | MI |
| SPECTRUM HEALTH REHAB & NSG CTRS-UNITED HOSPITAL | GREENVILLE | MI |
| MARTHA T BERRY MEDICAL CARE FACILITY | MOUNT CLEMENS | MI |
| HILLSDALE CO MEDICAL CARE FACI | HILLSDALE | MI |
| BROOKHAVEN MEDICAL CARE FACILI | MUSKEGON | MI |
| MAGNUMCARE OF MONROE | MONROE | MI |
| EVANGELICAL HOME – SALINE | SALINE | MI |
| BOULEVARD MANOR, LLC | DETROIT | MI |
| LUTHER MANOR NURSING HOME | SAGINAW | MI |
| DIMONDALE NURSING CARE CENTER | DIMONDALE | MI |
| MANOR OF SOUTHGATE SKILLED NURSING & REHAB | SOUTHGATE | MI |
| LUTHERAN HOME | FRANKENMUTH | MI |
| LAKEVIEW EXTENDED CARE AND REHAB | HARBOR BEACH | MI |
| OAKRIDGE MANOR NURSING & REHAB CENTER LLC | FERNDALE | MI |
| BORTZ HEALTH CARE OF WARREN | WARREN | MI |
| MAGNUMCARE OF SAGINAW, LLC | SAGINAW | MI |
| WHITE PINE REHABILITATION & HEALTHCARE OF HOWELL | HOWELL | MI |
| REGENCY HEALTHCARE CENTRE | TAYLOR | MI |
| CRANBROOK GERIATRIC VILLAGE | DETROIT | MI |
| WEST OAKS SENIOR CARE & REHAB CENTER | DETROIT | MI |
| BORTZ HEALTH CARE OF ROSE CITY | ROSE CITY | MI |
| CHIPPEWA COUNTY WAR MEM HOSP LTCU | SAULT SAINTE MARIE | MI |
| ST JOSEPH'S HEALTHCARE CENTER | HAMTRAMCK | MI |
| BORTZ HEALTH CARE OF OAKLAND | ORION | MI |
| AUSABLE VALLEY COMMUNITY | FAIRVIEW | MI |
| REDFORD GERIATRIC VILLAGE | DETROIT | MI |
| ST ANNES CONVALESCENT CENTER | DETROIT | MI |
| MEDILODGE OF PORT HURON | FORT GRATIOT | MI |
| EASTWOOD CONVALESCENT CENTER | DETROIT | MI |
| AUTUMN WOODS RESIDENTIAL HLTH | WARREN | MI |
| BORTZ HEALTH CARE OF PETOSKEY | PETOSKEY | MI |
| GREENFIELD REHAB AND NURSING CENTER | ROYAL OAK | MI |
| SAGINAW GERIATRICS HOME | SAGINAW | MI |
| WESTWOOD NURSING CENTER | DETROIT | MI |
| GRACE OF DOUGLAS | DOUGLAS | MI |
| ELMWOOD GERIATRIC VILLAGE | DETROIT | MI |
| PARK GERIATRIC VILLAGE | HIGHLAND PARK | MI |
| LAKESHORE HEALTHCARE SKILLED NURSING & SPECIALTY C | DETROIT | MI |
| BEACONSHIRE NURSING CENTRE | DETROIT | MI |
| HENRY FORD CONT CARE CTR-BELMO | HARPER WOODS | MI |
| HENRY FORD CONT CARE CTR-ROSEV | ROSEVILLE | MI |
| BOULEVARD TEMPLE CARE CENTER, LLC | DETROIT | MI |
| BORTZ HEALTH CARE OF YPSILANTI | YPSILANTI | MI |
| MANOR OF BATTLE CREEK SKILLED NURSING AND REHAB | BATTLE CREEK | MI |
| MANOR OF NORTHWEST DETROIT SKILLED NURSING AND REH | DETROIT | MI |
| LAKEPOINTE SENIOR CARE AND REHAB CENTER, L L C | CLINTON TOWNSHIP | MI |
| COUNTRYSIDE NURSING AND REHABILITATION COMMUNITY | SOUTH HAVEN | MI |
| COUNTRYSIDE CARE CENTER | JACKSON | MI |
| FOUR SEASONS NURSING CENTER OF WESTLAND | WESTLAND | MI |
| ST FRANCIS NURSING CENTER | DETROIT | MI |
| THE CARRIAGE HOUSE OF BAY CITY | BAY CITY | MI |
| JORDANS NURSING HOME | BRIDGMAN | MI |
| WESTLAKE HEALTH CAMPUS | COMMERCE | MI |
| CHRISTIAN CARE NURSING CENTER | MUSKEGON | MI |
| HYLAND NURSING HOME | IRON MOUNTAIN | MI |
| LAW-DEN NURSING HOME | DETROIT | MI |
| HOLLY CONVALESCENT CENTER | HOLLY | MI |
| ROMEO CONTINUING CARE, INC | ROMEO | MI |
| ROMEO NURSING CENTER | ROMEO | MI |