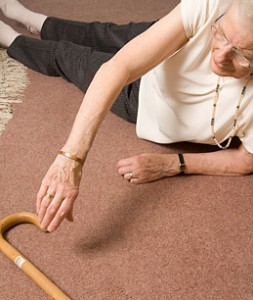 Her care plan at Brookhaven Medical Care Facility clearly stated Ms. D was "not to be left unattended in the bathroom."  The unlicensed nursing assistant taking care of Ms. D on August 21, 2011 paid no attention to that directive when he assisted her to the bathroom, partially closed the door, and negligently walked away from his post.  Ms. D, alone in the bathroom, slipped off the toilet and fell to the ground, breaking her right femur at the narrow area where it meets the hip joint.
After Ms. D's broken hip was surgically repaired at a hospital, she returned to Brookhaven, located in Muskegon, Michigan.  Despite undergoing physical therapy, Ms. D was unable to regain full mobility and strength in her leg, and could not walk.  Ms. D continued to experience intense pain from the fracture and from a large pressure sore that developed on her backside because she was confined to her bed.
Complications from the fall and resulting fracture led to a decline in Ms. D's health and quality of life.  Ms. D passed away on September 11, 2012.
Jules Olsman and Stephanie Arndt have filed suit on behalf of Ms. D's family, against Brookhaven Medical Care Facility, for the reckless and negligent care she received which resulted in a devastating hip fracture.