Ms. A was a resident of Wixom, MI prior to being admitted to St. Jude Nursing Center in Livonia for long-term care services. Approximately 3 years after her arrival at the facility, Ms. A was given a fall risk assessment that placed her at a high risk for falls. Among other things, Ms. A. exhibited intermittent confusion, decreased balance when standing and walking (she was wheelchair bound), decreased coordination, osteoporosis, and arthritis.
St. Jude Nursing Center created a care plan for Ms. A and also had several policy procedures in place that should have kept her safe while in the care of their facility. The care plan created for Ms. A. had the goal of promoting continued safety and preventing falls or injury for 90 days. The Dining Room Coverage policy that was in place stated that residents should be escorted to and from the dining room one at a time, and that during transport all safety precautions per each resident's care plan should be followed. Finally, the Nursing Center had prevention strategies that called for continued assessments for environmental hazards and to eliminate such hazards as appropriate.
Not all of these policies were followed. Less than 2 weeks after her care plan was established, Ms. A had an unfortunate accident. After a meal, she and other residents were lined up near a ramp while an unlicensed nursing assistant returned the residents one by one to their rooms. While sitting unattended and strapped into her wheelchair, Ms. A. began to roll down the ramp. She was slammed into a wall, flipped sideways, and had her wheelchair land on top of her.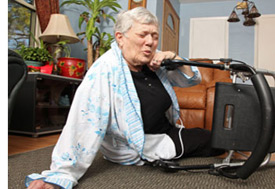 X-rays taken at the the nursing home showed a "suspicious impacted fracture of the neck of the humerus and no significant displacement." The next day, Ms. A. was transferred to Huron Valley Hospital where X-rays revealed a displaced left humeral head fracture (left shoulder fracture). The doctor on her case noted that they would proceed with non-operative treatment, including a shoulder splint and a collar and cuff to be used for 2-3 weeks. Ms. A. then returned to St. Jude Nursing Center where she continued to experience extreme pain and difficulty. Her food and fluid intake decreased and she began needing increased assistance with activities of daily living. Unfortunately, her participation in activities at the center also declined. Ms. A. was discharged to Norma Lee Group Home/Baley's Residential Home Care Adult Foster Care Home a few weeks after her fall. While there, she continued to receive physical, occupational and speech therapies.
Ms. A's health continued to decline and she was placed on Hospice. She passed away recently.