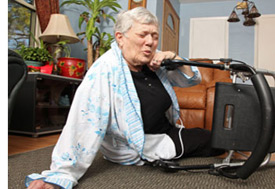 Negligence on the part of nursing staff at Heaven's Open Door Senior Living, an adult foster care facility in West Bloomfield, Michigan, resulted in a nightmare for an elderly resident who fell and broke her hip in four places.
Mrs. F, a dementia sufferer who also experienced instability due to semi-paralysis, was routinely restless during the early morning hours, typically between 4:00 and 5:00 a.m.  Nursing staff was aware that, during those early morning hours, Mrs. F would awaken and transfer herself from her bed to a chair, without assistance.  When Mrs. F was admitted to Heaven's Open Door, it was determined that she was at risk for falling and required a walker and the use of a gait belt with assistance while walking and transferring.  Falls are among the most common injuries nursing home and foster care residents face.
Despite knowing Mrs. F's pattern of waking up and moving herself from the bed to the chair, nursing staff neglected to prevent her from self-transferring and falling during that time.  Early in the morning of October 9, 2012, a care worker found Mrs. F on the floor of her room.  Mrs. F had attempted to transfer herself from her bed to a chair, without help, and fell hard enough on her left hip to cause it to fracture in four places.
Two care workers returned Mrs. F to her bed after she fell.  Mrs. F's leg was red, and she informed the care workers that her leg was hurt.  Even though she complained of hip pain, Mrs. F never received medical attention for the injury while she remained at Heaven's Open Door.  From the time she fell until her release on October 12, 2012, Mrs. F endured pain, was unable to stand or walk on the injured leg, and refused to participate in physical therapy.  Nursing staff also failed to inform Mrs. F's husband of the fall until the day he picked her up.
Mrs. F's husband took her to the emergency room on October 13, 2012, where she finally received medical attention.  Physicians diagnosed her with the four part hip fracture and performed extensive surgery to reposition and stabilize her hip.  Mrs. F continues to suffer from physical pain and disability due to a fall that could have been prevented with proper attention from nursing staff.
Jules Olsman and Donna MacKenzie, of Olsman, Mueller, Wallace & MacKenzie, have filed suit on behalf of Mrs. F against Heaven's Open Door Senior Living.