A disturbing trend is taking away access to the civil justice system for many senior citizens. Assisted living facilities and senior living complexes are forcing residents to sign arbitration agreements before they can live at the facility. These arbitration agreements are inherently unfair and one-sided in nature. They deprive the individual who signs the arbitration agreement of the ability to seek justice and have a fair trial, and they often limit the amount of money that the individual can recover from the facility, no matter how badly the resident was injured by the negligence of the facility.
Based on his belief that these arbitration agreements are fundamentally wrong, Jules Olsman, president of Olsman MacKenzie and Wallace, recently argued before the Sixth Circuit Court of Appeals to invalidate an arbitration agreement that Brookdale Senior Living Community ("Brookdale") was attempting to enforce against a former resident, George Rowan, who was severely injured when Brookdale failed to take proper safety precautions and Mr. Rowan eloped from the facility.
Before moving into Brookdale, Mr. Rowan was given no choice, but to s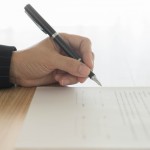 ign a 36 page Residency Agreement with an arbitration clause contained within the lengthy document. Before being asked to sign the Residency Agreement, Mr. Rowan and his family were not given time to review the document, and they were not informed that the document contained an arbitration clause. Even more troubling is the fact that Mr. Rowan was moving into the facility because he had recently suffered a stroke, which had affected his mental capacity and made his unable to comprehend what he was signing.
Based on Mr. Rowan's lack of mental capacity and the inherit unfairness of the arbitration agreement itself, Mr. Olsman argued the Court should not allow Brookdale to enforce the arbitration clause, but instead Mr. Rowan should be allowed to try his case in front of a jury. At the time of this posting, Mr. Olsman is awaiting the rule by the Sixth Circuit Court of Appeals in Cincinnati, but states, "If justice prevails, Mr. Rowan will be allowed to have his day in court. Facilities, like Brookdale, who cater to the elderly population, should not be allowed to prey on our most vulnerable citizens by taking away their right to seek justice in a court of law by inserting an unfair, one-sided arbitration agreement in the middle of a multi-page document."
Click here to listen to the complete oral argument.