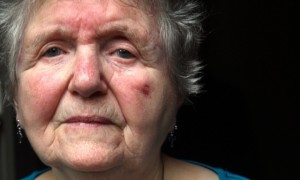 It was made clear in her care assessment that Mrs. D could not move around without the assistance of her walker because she tended to shuffle her feet, and she had poor balance. Caregivers at Crystal Haven, an adult foster care center in Vestaburg, Michigan, negligently failed to supervise Ms. D and ensure that she had her walker when ambulating or standing. On January 17, 2013, Mrs. D was left sitting unattended on a couch, and attempted to walk without assistance.  She lost her balance, fell forward, and struck her face against a marble fireplace hearth.
Mrs. D was taken by ambulance to a nearby hospital where x-rays revealed multiple fractures to her face.  Doctors discussed possible surgical repairs with Mrs. D's family, but nothing could be done until the severe facial swelling subsided.  In addition to the facial fractures, medical staff found that Mrs. D was dehydrated, malnourished, and had a urinary tract infection that was not being treated.
Mrs. D never made it to surgery.  Three days after her hospital admission, she passed away as a result of complications from the facial trauma she sustained in the fall.
The family of Mrs. D has filed suit against Crystal Haven for failing to monitor Mrs. D's movements and reminding her to use a walker.  Jules Olsman and Donna MacKenzie will be representing Mrs. D's family in the suit.