The U.S. Consumer Product Safety Commission (CPSC) and Bed Handles Inc., of Blue Springs, Mo., are reannouncing the voluntary recall of about 113,000 adult portable bed handles. The recall involves adult portable bed handles sold by Bed Handles, Inc. from 1994 through 2007 that do not have safety retention straps to secure the bed handle to the bed frame to keep the bed handle from shifting out of place and creating a dangerous gap. Residents who use these bed handles are at risk of entrapment, strangulation and death. This recall comes after a fourth victim died after being entrapped in the gap between her mattress and the bed handle.
Bed handles are used to prevent injury by assisting patients when getting into and out of bed.  However, as the above recall of adult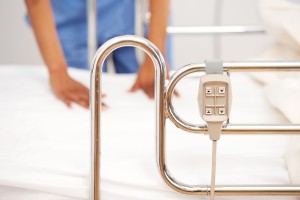 portable bed handles highlights, if installed incorrectly or used improperly, these devices can be deadly. This recall reiterates the need for staff to supervise the use of assistive devices and to report any concerns or problems immediately.  Additionally, if a device seems unsafe, it is the responsibility of the staff members to suspend use of the product until the hazard is removed.
The attorneys at Olsman MacKenzie & Wallace represent individuals who have suffered serious injuries or death as a result of defectively designed or improperly utilized bed rails. President Jules Olsman has successfully represented the estates of individuals who become entrapped, strangled, and suffered death in these situations for over thirty years, and he recently settled a bedrails entrapment case for $800,000. Mr. Olsman recently commented on this recall, stating "The healthcare industry and the bedrail industry has been fully aware of the dangers of bedrails and side-rails for over 20 years, but has done nothing to address these dangers. This recall is a further example of the indifference these industries display to our most vulnerable citizens."
If you or a loved one has been victimized by a defectively designed or improperly used bedrail, our attorneys will seek to hold accountable those who are responsible. Please call us so that we may learn more about the case.
To learn more about this recall, please contact Bed Handles Inc. at 800-725-6903 from 8:30 a.m. to 4:30 p.m. CT Monday through Friday, or online at //bedhandles.com/recall.html.